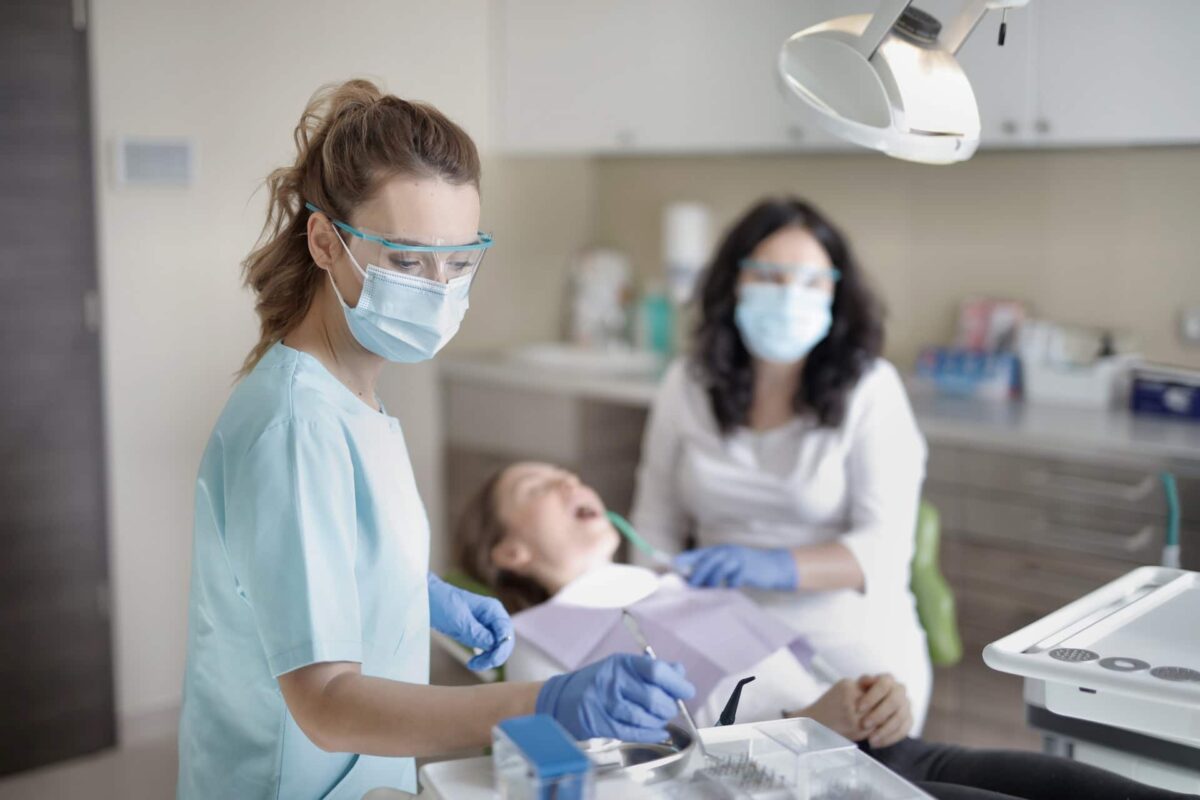 SEO for Dentists: Marketing Tips for Your Office
Before your patients can even begin to make their way to you in the real world, they're going to have to know about your services in the digital world.
Having a website and listing your business (be it local or country-wide) is a great start to putting yourself out there, but to really drive people to visit your website, you're going to need more. That's where dental SEO services come to the rescue.
In this article, we'll dive a little deeper into the basic SEO practices that can make a world of difference if implemented correctly.
What's the Big Deal About SEO?
Think about what separates a seemingly passable website from a great website; the kind that gets noticed and pops up on the first page of your Google search. The answer to this lies in search engine optimization or SEO.
What SEO does is make your website work harder by increasing the traffic sent to your website by search engines; giving it a high ranking on a search engine results page (SERP).
If you aren't familiar with SEO and its key elements, all of this can sound a bit intimidating. But I'm hoping by the time you're done reading this, you'll be more comfortable and possibly excited with all opportunities that await your dental practice.
Reach The Right People
Now search engines are used by millions of people every day, many of whom could be your potential clients and patients. To reach them, you'll want to make SEO your best friend.
How are they both connected? It has a lot to do with website traffic. When more and more people spend time on your website, it's referred to traffic, similar to how you'd imagine traffic on the streets.
This traffic can come from a number of different places: social media platforms, email marketing campaigns, referrals and even directly which is when someone manually types in your URL to search for your business.
Which brings us to organic search engine traffic.
Why Organic Search Engine Traffic Matters
You may have heard the words organic search, organic traffic, or perhaps even 'Google traffic' floating around.
While you don't have to concern yourself with the many names it goes by, you should get yourself acquainted with how it's going to make your website an asset that works while you're sleeping.
Organic search engine traffic is perhaps the most important source of website traffic. It refers to the people who discover your website from a search engine's unpaid results after they run a search for a topic or keyword.
That is; they searched for a term like "dentist near me", skipped over the ads and clicked through to your website.

How SEO Helps
If there are so many websites that exist on the internet, why is it that only a handful make it to the top pages of search engines? A lot of it has to do with the correct SEO practices.
Here are some of the ways that SEO marketing for dentists can influence your organic traffic:
Patients will find you faster: The people that end up on your website will be the ones who are actually interested in your services.
Better conversion rates: When your credibility improves, you're more likely to see users converting to patients from organic search traffic than any other form of traffic.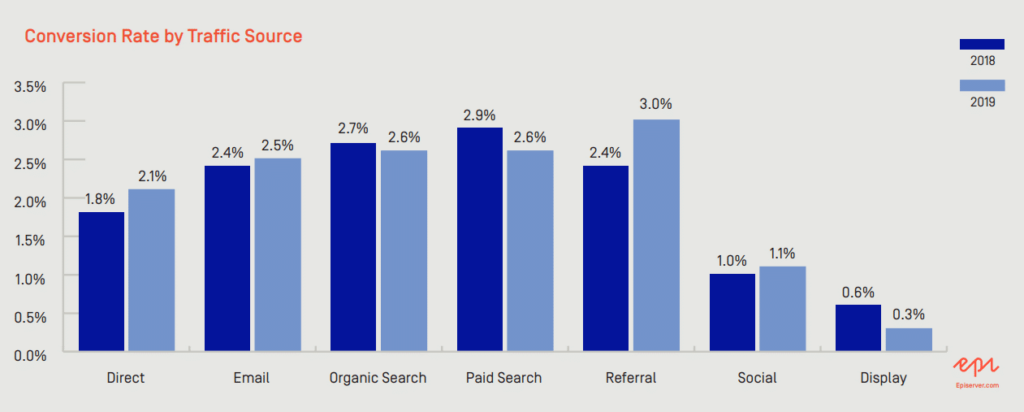 Key Dentist SEO Marketing Elements
When considering using SEO for dental offices it's important to remember that this is a broad topic that covers a lot of elements. When used correctly, they're proven to elevate the ranking of your website, build credibility, and drive conversions.
It may seem complex at first, but I'll do my best to ease you through every concept without it being too overwhelming.
On-Site SEO
On-site SEO is all about optimizing the elements on your web site, to improve your rankings and increase search engine traffic. Remember that this includes optimizing your entire website and not just a single page.
Once you've utilized these on-site strategies correctly, search engines and users alike will be able to tell:
What your website is about
If your page is relevant to their keywords
If your page is of high value and answers their search query
Keywords
Back in the day, for a page to rank high on a search engine, more emphasis was placed on including the right keywords, than say, the actual user experience. The goal was simple– make sure search engines find your page through the numerous keywords you used.
Today, things are a little different. Keywords are important– as they should be– but they're being used more as a tool that can help shape the content of your webpage and make it more user friendly.
Dentist Keyword Research
So how do you find and include the best keywords on your webpage? There are many keyword research tools on the market, both paid for and free.
A simple example of a free "tool" is simply the bottom of each page in Google. There, you'll learn the related terms that people often search for.

Tools like these are important in discovering the common phrases and words used by people in search engines in relation to your business or service.
You can then use this information and create your content around these keywords to improve your ranking on search engines, putting your business in the spotlight.
If doing the research isn't for you, there are plenty of companies out there that will do this research on your behalf.
Keyword Intent
Keywords can either be short words, or longer phrases, which we then refer to as long-tail keywords. These work just as well since they throw some light on what people are looking for, or simply put– the intent behind their search.
Here's where things get interesting for you as a business. If you can correctly match your content to what your users are looking for, it's a win-win situation for everyone. Your users find exactly what they're looking for, and you're directly connected to the people that require your services.
While bragging to your friends about ranking number 1 for san diego dentist might be fun, it's likely that you're better off taking the top position for encinitas dentist instead. While more people are searching for the former, the latter is more specific, meaning you'll probably end up with more appointments.
Keyword Search Volume
In order to select the right keywords, you need to know which ones are performing well in the first place. Keyword search volume gives you that information.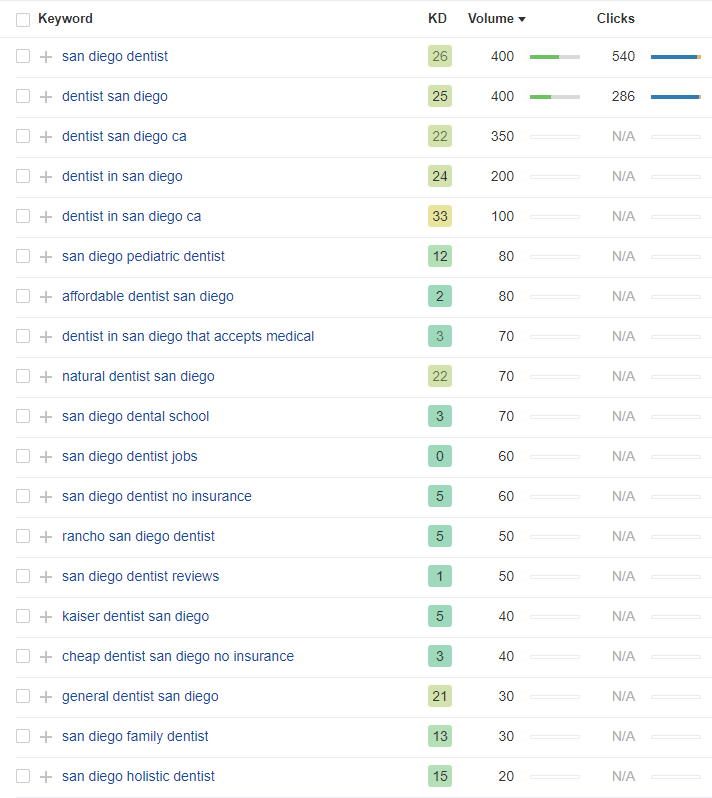 It refers to the number of searches for a particular keyword each month. If you're not paying for multiple higher-end tools, this can be a bit of a guessing game. Consider engaging a service provider to do your keyword research so you can get the job done with accuracy.
On-Page SEO
What's the difference between on-page and on-site SEO, you ask? While on-site SEO refers to the entire website, on-page SEO deals with the individual pages that are part of your website.
In short, you're optimizing the quality of content, content structure, and the unique code of a webpage to improve your organic search traffic.
So let's dive into some SEO elements in relation to content.
Content Quality
Ask yourself if the content on your website is adding value to people visiting that page. If it is, they'll spend more time on your page and are more likely to "convert" to a patient, which is good for both your search engine rankings and your business.
Here are some characteristics of good content quality that will help you gauge if you're on the right track:
Accurate: This one's a no brainer. All the content on your web page should be true, well-cited and backed up with data.
Original: There was a time when copying content from other websites instead of writing it yourself worked. Now, it could get you penalized. Besides, isn't it more interesting to read content that's unique if you want to catch the eye of your target audience?
Detailed: When it comes to your website content, less isn't always more. Content that is well explained often performs better. That said, 5000 words about nothing won't perform at all.
Title Tags
Title tags are one of the first things that catches your eye on a search result page. They're essentially a clickable headline that tells your users what the content of the page is about.
Ideally, your title tag should be 50-60 characters in length and should include your focus keyword, followed by the name of your business.
Clean URLs
A website URL is the address of your webpage and it can be either "semantic" or "non-semantic". Non-semantic URLs are not easy to read and consist of a jumbled up series of letters and numbers. For example:
https://yourlocaldental.com/index.php?type=pediatric&loc=5
On the other hand, semantic or "clean" URLs consist of words or phrases that can be read and recognized. Clean URLs are great because they paint a very clear picture about the content of your webpage both to search engines and people. For example:
https://yourlocaldental.com/encinitas-pediatric/
Some tips to keep in mind while creating these URLs are:
It should be brief and easy to read
Include a keyword or term but try to keep it short
Words should be separated with hyphens and not underscores
Heading Hierarchy
When you glance through a well produced webpage, you'll see that headings provide structure and clarity. Without them, your page would look dull and confusing, without any emphasis on which parts are important.
To avoid this, you'll want to organize your content with the help of heading tags. In HTML these are H1, H2, H3, H4, H5 and H6 tags.
Aesthetics aside, heading hierarchy does impact your ranking since it clearly tells the search engine what a page is about.
Meta Descriptions
Meta descriptions are a short summary of your webpage content, almost like a description of what the user is about to read. They show up on the search results page and usually include the keyword or phrase that users type into the search engine.
For this reason, you want to write a meta description that's accurate, brief, and also includes a focus keyword and call-to-action.
Meta Keywords
Meta keywords is an outdated tag that hasn't been used by Google in a long time. They were previously used to tell search engines about the topic of a web page, but nowadays search engines are much better at working that out for themselves.
Using meta keywords may not necessarily hurt your page, but if it isn't adding any value, why bother with them?
Image Alt Text
Have you ever been on a website where the image just won't load? In such cases, it really helps to use the image alt text which is an alternative text that shows up in place of the image.
Image alt text is useful when there are missing or broken images, slow internet connectivity, and even for visually impaired users who use screen readers. Search engines also use this information to index images more accurately.
Internal Links
Internal links refer to the links used within the same website, helping users navigate and find the content they're interested in.
This helps search engines get an idea of which pages on your website are the most important, and for you to guide patients from one page to another.
Our internal linking service uses a proven SEO strategy to get the maximum value out of your website's blog posts, pages, and backlinks. It keeps patients engaged and on your website longer, giving you a far greater chance of getting a booking.
Outgoing Links
Outgoing links send the reader from your website, to another website. Sounds counter-productive? It can be, but used sparingly it has benefits too.
When you're linking to a reputable website, it in turn adds credibility to your business. You may even get noticed by these websites and receive a mention back from them.
Website Performance
Let's talk about speed, shall we? When your website loads faster, it opens up a lot of doors for both you, and the users visiting the page. Some of these advantages are:
You rank higher in search engines. And once you achieve this, get ready to see an increase in organic traffic.
Visitors are more likely to stay on your webpage if it loads faster. Many people click "back" to Google when a website doesn't load within 2 seconds.
When more people spend more time on your website, you'll see more appointments.
You can use Google's free "Measure" tool to analyze the speed of your web page (along with other technical elements), or ask us for a more detailed report.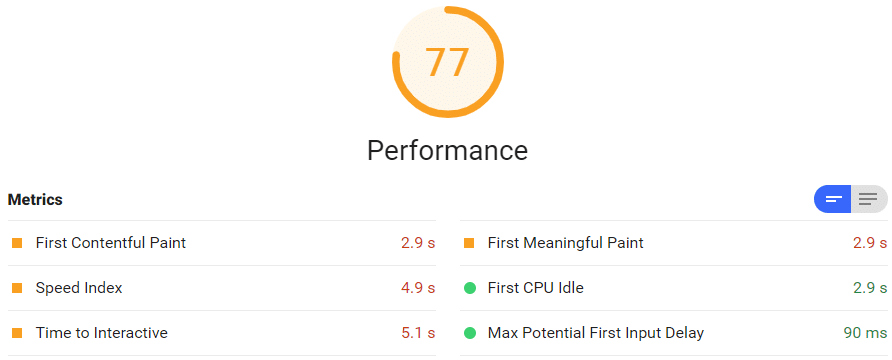 Optimizing images, reducing the use of plug-ins, and high-quality hosting are some of the many ways you can improve your website's performance and speed.
Sitemap and Page Indexing
Haven't heard of sitemaps? Don't worry, you aren't alone.
I've come across plenty of dentist websites that either don't have sitemaps or aren't set up correctly. This does a big injustice if you have a good website that's waiting to be discovered by people looking for you.
XML Sitemap Creation
Simply put, an XML sitemap contains a list of all the important URLs on your site. It informs search engines about the content available on your website, which is ready to be crawled.
You can take a look at our sitemap here to understand this better.
A common problem seen with many websites is that the sitemap is either out of date or that it contains pages that hold no value. Because of their importance, we make it a point to focus on high-quality pages and limit search engines from indexing every page on the website.
Use Noindex For Low-Value Pages
Putting your best foot forward doesn't only apply to the real world.
The noindex directive allows you to filter out the low-quality pages of your website– the ones that you don't want search engines to display.
That said, noindexing is a bit like a scalpel. In the right hands it can get the job done with precision. But if you don't know what you're doing it can end up doing more damage than good.
Submit Your Sitemap
The final step is submitting your sitemap to the search engines. Here's where you need to go: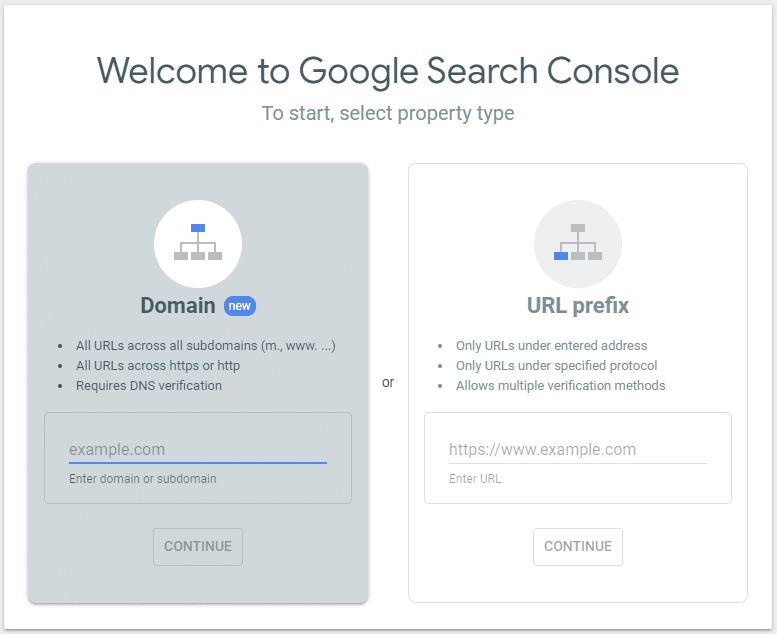 Secure Your Website With an SSL Certificate
If there's one thing that can make or break your website's ranking– it has to be securing your website correctly.
SSL certificates and their correct implementation elevate your website from HTTP to HTTPS and provide your users with a secure connection on pages; especially important when they share confidential personal data with you.

If a website is secured you will often see a lock sign beside the webpage URL, and depending on the browser, insecure pages are often marked with a red "Not Secure" warning, sure to turn patients away.
Users are more likely to interact with pages that have an SSL certificate and even Google has announced how securing your website is the easiest thing you can do to boost SEO ranking.
Schema/Structured Data Usage
Schema markup, also known as structured data, is code that makes it easier for search engines to understand and certain content on your web page. This is very important when search engines crawl your website.
You'll want to make sure that basic information of your business like the name, address and phone number is consistent throughout your schema. Once you've got this down, you can look at including other information such as:
Logo and photos of your dental practice
A concise description
Opening hours and availability
Reviews and testimonials
Map URL
Conversion Rate Optimization
The connection between conversion rate optimization (CRO) and SEO is an interesting one. CRO is the process of increasing the conversions or percentage of visitors that take a certain action on your page. This could be anything from becoming a patient, filling a form or signing up to a newsletter.
If you're creating value for your users through your content and SEO, they're more likely to convert. At the same time, if users are spending time on your website and converting into patients, Google sees you as a high-value website and your search engine ranking improves.
It's not simple to prove but every year CRO and SEO become increasingly interconnected.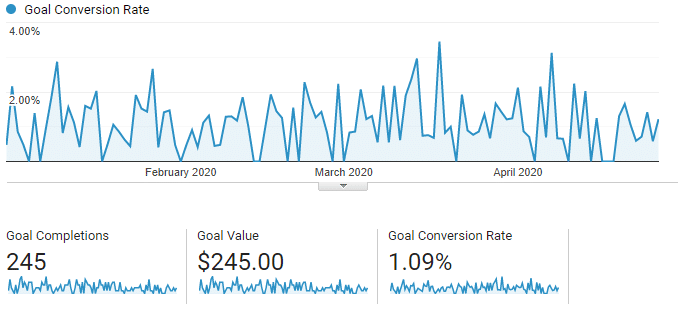 Off-Site SEO
All the methods taken outside of your website which improve your position in search engine results pages (SERPs) are what we call off-site SEO. These could be in the form of mentions, reviews or promotions of your website on other websites.
This doesn't mean off-site SEO is any less important. In fact, good off-site SEO is arguably more important once you have a decent amount of content on your site, and your site is well maintained.
Off-Site SEO helps with:
Building credibility
Sending "referral traffic" to your website from other relevant sites
Ranking on page 1 of Google
Link Building
When you look at the inner workings of SEO today, intent matters more than ever which is why we focus on quality over quantity.
This is great news for businesses and individuals that thrive in creating value for users. So let's take a look at some of the tried and tested backlink optimization methods.
Digital PR & Press Pitches
Many small business owners seem to think that the realm of PR and working with journalists is reserved for publicly traded companies with huge budgets.
This isn't the case, and engaging with these journalists and editors can be hugely beneficial for your website's SEO. Our trained team of press writers offer a HARO link building services along with similar services using platforms like SourceBottle, Terkel and Profnet every day. Simplified, the process works like this:
Journalists ask for a comment from an expert on a certain topic
We write a response on your behalf, addressing their needs
This response is sent to them via email, along with your profile photo, social media profiles, a short bio and your website's URL
When your comment is included in their article, they not only mention your business name, you also get links to your website and social media profiles
It's simple, but time consuming. The payoffs are huge though. Who doesn't want to be mentioned on the likes of MSN, LiveStrong and Romper?
Natural Links
Natural links are also known as "organic" links and they're everyone's favorite. The way they work is simple. If you have good quality content on your web page, you have a higher chance of people linking to these pages from their website.
Once you've created the content, you can email it to colleagues or your business networks, share it on your Facebook page or something else.. By getting the word out there through methods that don't involve search engines, people can be impressed and continue sharing it around, where sooner or later someone can link to it.
As more and more visitors turn up on your page, more people share it and, over time, link to it as well.
Outreach Campaigns
Outreach is a popular form of link building used with the goal of making other website owners aware of your content, and then linking to it from their site.
There are a number of ways you can go about this–some choose the "spray and pray" automated approach, emailing thousands of people per day, while others do it manually, and very targeted.
Email was a popular medium for this, but nowadays a lot of people use social media mentions as well. A key point to note here is that the whole process should be manual, and focus on quality over quantity.
Yes, you might want to establish your website quickly, but quality is always the name of the game. Check out our manual link building service to learn more about this process and how we can help.
Self Created Links
When it comes to link building, self-created links don't have the best reputation anymore. They carry less credibility for the sole reason that "anyone" can create them.
These links aren't inherently bad, it's just they're often used to try and trick search engines into thinking a webpage is relevant when it actually isn't. In addition, the bulk of them are "nofollowed", which are generally have a lower value. As with everything SEO, the general rule is quality over quantity.
Some examples of self-created links are:
Unmoderated comments on blogs
Posting on forums
Business directories
Guest post signatures
User profile pages
Advertorials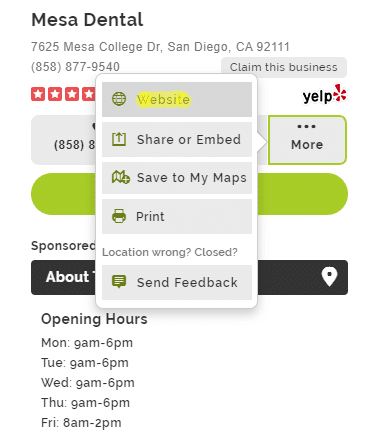 Links as a Result of Being a Reputed Business
The main issue people run into when building links is that they forget that they have a ton of legitimate opportunities to market their business, and they go with low-value strategies that often do more harm than good.
As someone who is proud of your dental practice, be sure to make the most out of your networking opportunities. For example, if you know a journalist, get quoted in one of their upcoming articles about the dental industry. Know a medical blogger? Ask if you can help them put together a new article on teeth whitening.
This brings with it a credibility surrounding your dental practice which is a sure-fire method of reaching the right people.
Using Social Signals
Likes, comments, tweets and shares are all recognized by search engines as 'social signals' and can help the organic search ranking of a webpage.
That said, I personally feel they aren't as crucial as some of the other elements on this list. So if you have dedicated social media pages for your dental practice, you can certainly use them to drive awareness for your website. Apart from this, I wouldn't worry too much about them or the lack thereof.
Citations and Local SEO
Citations play an important role in improving your local search results. They're an online mention of your business's name, address and phone number (NAP) which Google uses to analyse your website's credibility.
Citations should include:
Name of your business
Phone number
Address
Website Link
Photos
Reviews
Consistency is key when it comes to listing information online so make sure your citations, on-site schema, and Google My Business hold the same information.
Dental SEO: The Takeaway
Making waves in the digital space is easier when you know the ins and outs of how SEO works. It is an ever-evolving practice that requires constant research and efficient tactics.
If optimizing your dental website to yield better results is of interest to you, I encourage you to implement these SEO practices or reach out to team to help bring your website to the top of Google's search results.
Don't hesitate to send us an email to learn more, or book in a clarity session today.