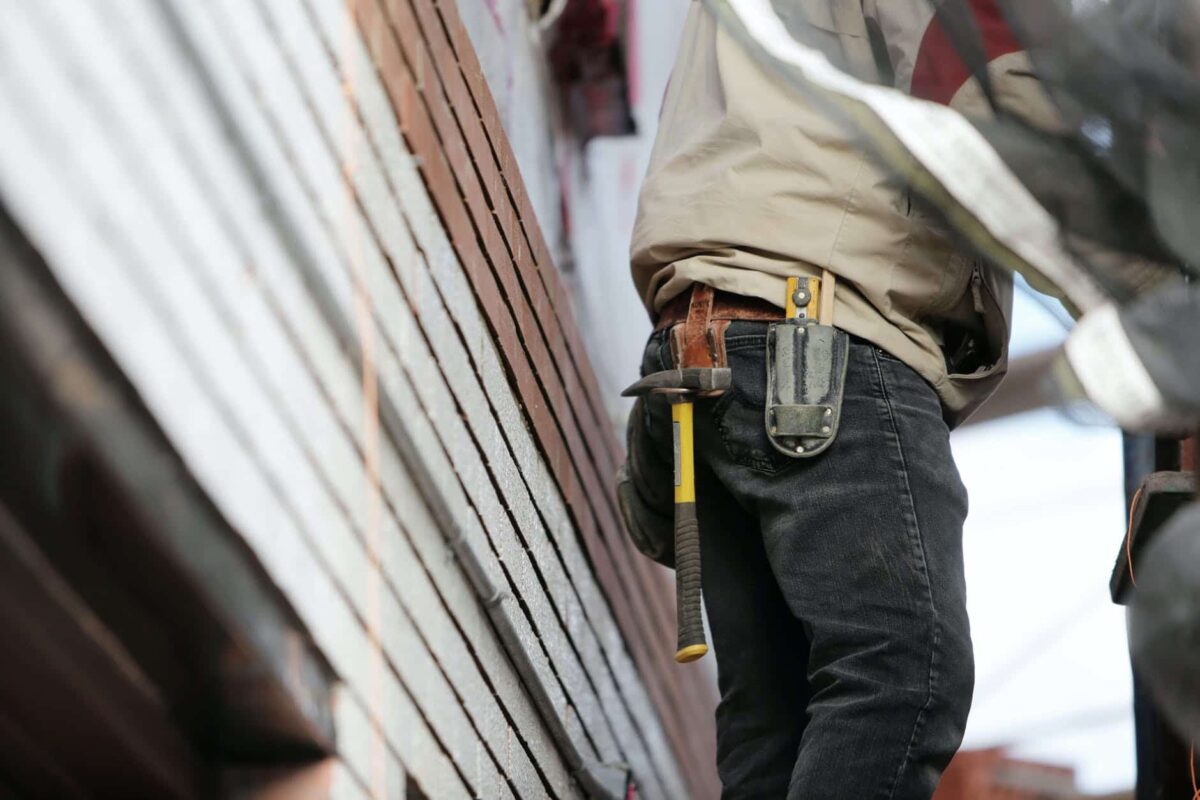 SEO for General Contractors: Services, Tips & More
The success of any business purely depends on a steady stream of customers. Where are your best customers? Online, looking for your services.
But to make sure they hire you, they need to be able to find you online.
It may seem challenging to turn up on the first page of Google's search results, but it's not as hard as you may think.
All you need is an effective SEO strategy and be willing to put in the hard work. If you commit to this over the long term, you'll be ranking before you know it.
In this guide, you'll find everything you need to know about the SEO practices that will help to boost your online presence and get noticed by potential customers.
Why You Should Care About SEO
We live in a time where running a Google search is our first instinct for finding just about anything. In fact, your potential customers are probably searching for home renovation near me as we speak.
To reach them, you need to make sure your services are displayed on their search results. SEO is the tool you need to make this happen.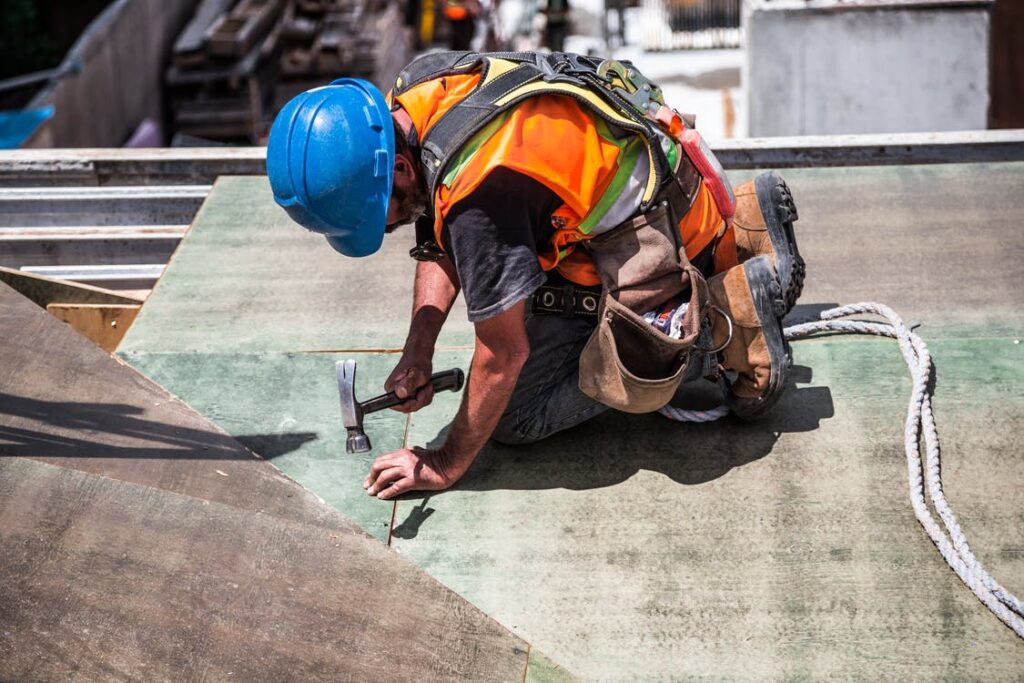 SEO is fairly straightforward. By optimizing your website, you're putting it in the good books of search engines. This gives you the high rankings you're aiming for.
This, in turn, leads to more "organic" (free) traffic to your website. As the right people find your services, you get more inquiries and then sales.
How Organic Search Traffic Works
Why is organic search traffic so important?
Unlike paid traffic, organic traffic tends to bring people who are genuinely interested in your services who have found you without clicking on any ads.
What's more important is the depth of their research and seriousness. When someone searches for home repair they are shown a sea of ads, but at this point, nobody knows what sort of repair they actually want. You'll end up paying for a ton of clicks that don't actually want your services.
SEO brings organic visitors to your website who are usually looking for more specific terms. Consider if someone is Googling for home structural repair contractors, it's much clearer as to what they actually want.

We've all been on the phone before with a customer who doesn't know what they want. They're almost always a time-waster!
General Contractor SEO: Best Practices To Increase Traffic
Interested in diving into the world of SEO for your contracting business but don't know where to start? You're not alone.
Website optimization can seem intimidating at first. But as you slowly start to get familiar with all the different elements on your website, you'll see how everything eventually connects.
I'll do my best to ease you through some best practices without getting too detailed.
On-Site SEO
Search engine optimization of the elements on your website is known as on-site SEO. This includes everything from the actual content to your website's speed, if it's secure, how well it loads on a phone vs a laptop, and so on.
A good on-site SEO strategy considers:
How relevant and useful your content is in comparison to the searcher's needs.
Whether your content is formatted correctly using headings, lists, and other elements.
SSL certificates and security.
How accessible your site is for people with vision trouble, or a disability.

If some of these more technical SEO elements are proving confusing, don't worry. At Dialed Labs we fix your SEO issues for you with minimum fuss.
Clean URLs
A URL is a web address that sends users to a specific page on your website. They can either be semantic or non-semantic.
A clean or semantic URL is made up of words that are easy to read. Because of this, your customers get a good idea about what they're going to see on your webpage. Clean URLs look something like this:
https://exampledomain.com/basement-remodelling/
On the other hand, non-semantic URLs aren't very specific about what the webpage is about. For example:
https://exampledomain.com/index.php?type=remodelling&location=5/
Overall, clean URLs are certainly more user-friendly and we encourage using them in place of non-semantic URLs wherever possible.
The Role of Keywords
A long time ago, many people used keywords by stuffing them into each page to easily rank well.
Things have changed a lot. Today keywords help you shape your content so you can be more relevant to your readers. Your keywords are essentially your strategy. All the effort in the world while executing the wrong strategy isn't going to lead to results.
Contractor Keyword Research
Keyword research is an important aspect of contractor SEO, as it's one that lets you understand your customers a little better.
To get started with keyword research, you'll find plenty of tools to help you out.
A simple place to get started is by making a Google search for topics relating to your services. Scroll to the bottom of Google's results page and you'll find several keyword recommendations.
These are usually in the form of short or long phrases — all of which your potential users type in their search query. Long phrases are known as "long-tail keywords".
Keyword Intent
Thanks to long-tail keywords, figuring out what your customers need is no longer a mystery. As the name suggests, these keywords are long and can be in the form of sentences or phrases.
One look at them and you get a good idea about the intent behind your customers' search query.
For example, between roof repair and how much does it cost to repair a leaking roof, the latter gives you a clear picture of why a customer needs your services.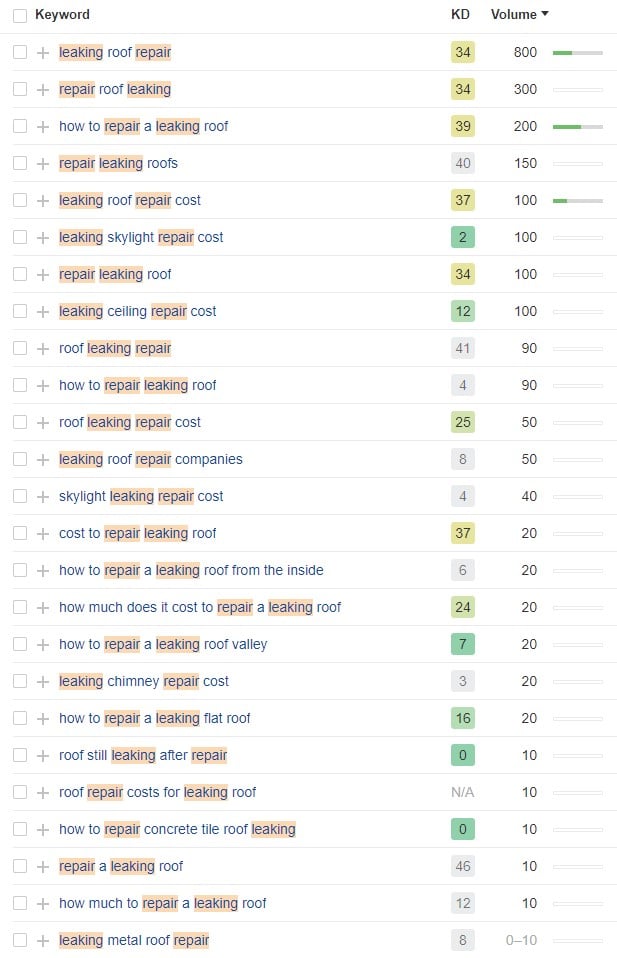 Search Volume
Let's say you find a list of keywords that are relevant to construction and renovation. Will you be using each and every one of them? Definitely not.
Search volume tells you which keywords are more popular, or rather which ones are used most frequently. There's no point investing time or money in writing a blog post about a topic that nobody is searching for, so this process ensures you get a return on your investment.
It's not difficult to get your hands on this data — that's what paid keyword tools like Ahrefs, Keywords Everywhere or SEMrush are for. However, if you don't see yourself spending Sunday afternoons analyzing keywords, perhaps hiring someone to do your keyword research for you is a better idea.
On-Page SEO
On-page and on-site SEO sound like similar concepts but in reality, they're quite different from one another. On-page has more to do with individual pages on your website and how to make each one of them perform well.
Let's take a look at the core on-page SEO elements you'll want to consider.
Unique, Relevant Content
Search engines place a lot of importance on how relevant and valuable your content is for users. Just take a look at some of your competitors and you'll see that it's their top-notch content that sets them above the rest.
To really catch your customer's attention, focus your efforts on developing unique, accurate, and detailed content. Using your keyword research, you'll be able to come up with several different talking points.
It doesn't all have to be lengthy blog articles. You'll certainly want your key pages that describe your business and your services to be easy to understand.
Outside of these key pages, your content could be anything from short DIY videos and example projects with photos from past customers. Your best bet is to have a good mix of different content formats to keep your customers on your site.
Headings
Reading a long continuous piece of text can be boring for just about anyone. But with the help of heading tags, you can break down your content in a way that is both enjoyable and interesting to read.
These include H1, H2, H3, H4, H5, and H6 HTML tags which follow a heading hierarchy. To really make them work in your favor, it's best to get familiar with the correct ways to use heading tags.
Aside from improving your website's readability, heading tags give search engines a clear idea about the content on your webpage.
Image Alt Text
If there's anything that working with websites has taught me, it's that things don't always go the way you planned. This especially holds true when images aren't displayed correctly.
It could either be because of slow load speeds, broken images, or if your customers are visually impaired and use a screen reader. In all these instances, having alternative text for your images can make a difference.
Image alt text is the text that shows up when images cannot be displayed. It tells both your readers and search engines what that image is about.
Your image alt text should be descriptive, yet brief and it doesn't hurt to throw in a keyword to keep Google happy.
Title Tags
As the name suggests, title tags are displayed on search results as the "title" of your page.
With their help, you can tell your customers (and search engines) what your page is all about.
Title tags are one of the first elements that catch the reader's eye in Google's search results, so it's very important to get them right. A well-written title tag will be short, crisp, and to the point.
Meta Descriptions
Meta descriptions provide a summary of your website content. At a glance, they give your customers a general idea about what that page is going to be about.
Just like title tags, a website's meta description is displayed on the SERP page and should contain a focus keyword.
A good meta description is catchy, concise, and effectively reels in your audience without giving away too much at once.
Internal Links
Internal links refer to all the links within your website. By clicking on them, customers can easily navigate your website and skip to the content they're most interested in.
Internal links also tell search engines which pages on your website are the most important.
If you get a lot of links to your home page, but you want to rank another page on your website, make sure there's an internal link from your home page to that other page. Internal link optimization is often overlooked, but it's an affordable strategy that can yield real results quickly.
External Links
External links send your customers to another website altogether.
You may wonder how sending your traffic to another page could benefit your business. The truth is, linking to reputed websites builds credibility both with search engines and your readers.
Who knows, you may even get a mention and a link back from one of those websites. But just like all good things, external links should be used in moderation.
Think of it as a referral to another business… "Hey, do you know an electrician I can trust?" You're essentially surrounding yourself with other quality businesses, that reflect well on yours.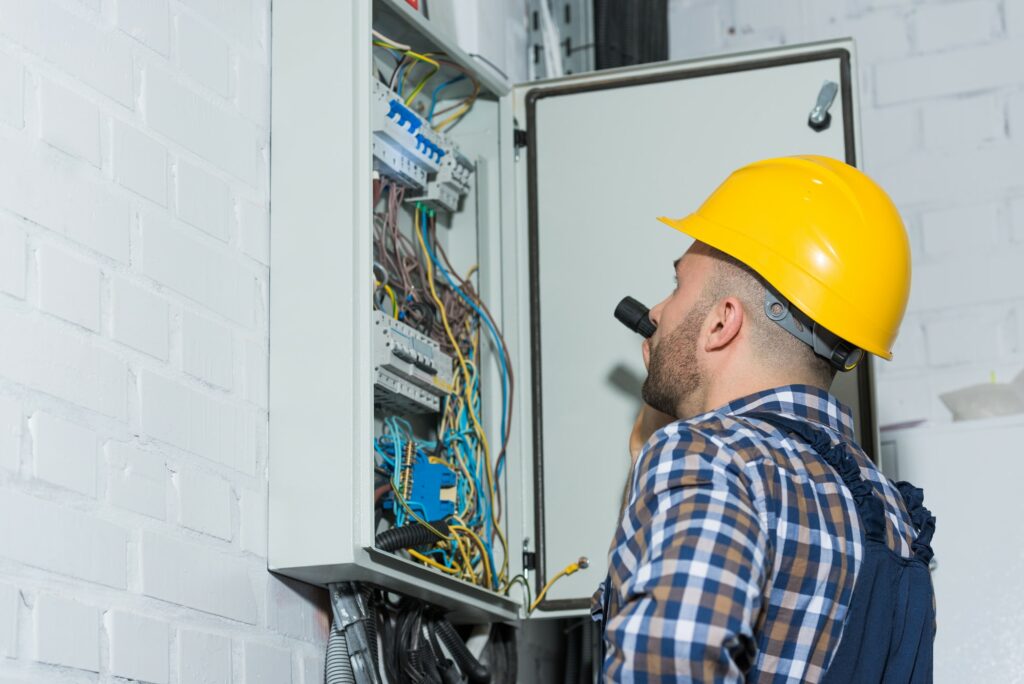 Sitemaps and Indexing
The easier it is for search engines to understand what your website is about, the better it is for your rankings. Sitemaps help search engines with this information and are a crucial part of website SEO.

Given their importance, you'd think sitemaps would be pretty common but that's not the case. I still come across many websites that are either missing sitemaps or haven't updated them.
Create a Sitemap
An XML sitemap is essentially a floorplan for your website — one that lists all the important URLs and lets search engines know your website is ready to be crawled.
When creating a sitemap, it's best to leave out all the pages that hold little or no value. You only want high-quality pages to be indexed by search engines.
For a better understanding of what sitemaps look like, you can take a look at our sitemap.
NoIndex the Low-Quality Pages
To really ensure that search engines do not index certain pages, you'll want to use a noindex tag.
In simple words, a noindex tag prevents pages from showing up in a Google search and it can be achieved by using a meta tag.
Do know that noindexing is a lot like using an angle grinder. It can get the job done with precision, but in the hands of an apprentice, it can do some serious damage. If you're unsure about how to remove pages from Google's index, reach out to our team of SEO experts.
Submit Your Sitemap
What seems so obvious is often a step that's left out by many. Without submitting your sitemap, search engines will not be able to use any of the information that you took so long to gather.
To submit your website's sitemap, sign up to Google Search Console and Bing Webmaster Tools.
Security and SSL Certificates
The last thing you want to do is is lose a customer because your website flashed a "page not secure" warning.
SSL certificates add a layer of security to all the pages on your website which is especially important if you require customers to enter any of their personal details.
Not sure if you have one? Simply visit your website and check if the URL starts with "HTTP" or "HTTPS". If it's the latter, you'll also see a padlock to it's left which means that it is secured with SSL. If you don't have one, you'll need to ask your hosting company to install an SSL certificate.
An SSL certificate secures both your website and your ranking with Google. We give you one for free as part of our service, so there's really no excuse for having a site that isn't secure nowadays.
Website Performance
Google loves websites that load quickly and so do your visitors. It is estimated that most people bail on websites that take more than 2 seconds to load.
Search engines have become much more serious about page speed than they were a few years ago; today it is an important ranking factor.
Some quick wins that come from having a fast website include:
You'll rank higher in search engines which translates to more web traffic.
The faster your site, the more time people spend on it. The longer they spend on your site, the more likely they are to contact you.
A good experience, which reflects positively on your business.
If you're curious about your website's current performance, you can use the "Measure" tool to analyze the speed of your webpage along with a few other technical elements.

Schema/Structured Data
Schema or structured data is code that helps search engines understand, organize, and display specific parts of your content.
From your opening hours to online reviews, search engines and other websites can use schema to display data about your business on their website.
The schema code will be a little different depending upon your business, though you can find contractor-specific markup here.
When dealing with schema, remember to be consistent with all the basic information of your business. This goes for your business name, phone number, and address but also includes:
Logo and pictures
Opening hours
Customer reviews
Map URL
A concise bio
Conversion Rate Optimization
When you have a well-optimized website in place, visitors are more likely to convert into customers. Keep doing this and soon enough Google will see you as a high-value, trustworthy website.
What you need to remember about conversion rate optimization, or "CRO", is that it all comes down to the customer's experience. From navigating your website to enjoying the content — if you can ensure a smooth experience for your visitors, you will be rewarded with conversions.
While it isn't always easy to prove how CRO and SEO are interconnected, the bond between them continues to get stronger every year.
Off-Site SEO
Now that we've had a good look at optimizing the elements on your website, it's time to understand how the elements outside your website play just as big a role.
Off-site SEO deals with everything from backlinks and citations to testimonials and setting up a Google My Business profile. In short, it covers every online mention of your business.
Once you have a website that's well maintained, off-site SEO can pull a lot of organic traffic your way.
Link Building
Any SEO specialist worth their salt knows that links can make your website work harder.
Link building involves getting other websites to link, or 'backlink' to yours. Not only does this bring more traffic to your business from other websites, but it also gives your website more "authority" in the eyes of search engines. This in turn helps your site to rank well.
There was a time when you could spam links all over the internet and call it a day. Today, you'll want to prioritize quality over high quantity when it comes to backlink optimization.
Here are some of the popular types of link building.

Organic Links
Organic or "natural" links are at the top of everyone's list for one main reason –– they do most of the work for you. What this means is, once you have a great service or content in place, readers will automatically link back to you.
Additionally, it's always a good idea to share your blogs or articles with colleagues and acquaintances within your industry. It helps get your content noticed by the right people.
The issue is, this is a slow approach. It can take years, often longer to get traction by just sitting and waiting.
Outreach Campaigns
If you're like me and don't like waiting for organic links to yield results, you might want to consider running an outreach campaign.
Here, you can contact website owners, bloggers, and other reputable writers within your industry.
If you use a certain brand of building product, ask the brand or distributor for a link from their website. Do you own a certain piece of machinery or tool? Do the same with the manufacturer.
Self-Created Links
Links you can create yourself don't tend to carry as much weight as they used to.
Using them probably won't hurt your online presence as long as you don't go overboard with them.
Self-created links are easy enough to spot and can be found as:
Blog comments
Forum posts
Business directories
Guest post signatures
User profile pages
Press and Expert Roundups
As a contractor, you've probably bagged enough experience in your field to speak on a variety of topics. Lucky for you, there are many journalists out there that could use your inputs.
HARO link building is a process where you can connect and respond to journalists that write in your area of expertise. In return, you get high-quality links back to your website.
To be clear, this will require you to invest a chunk of your time. But the payoffs are well worth it, especially seeing as how many major publications use this service.
If you want your contracting company mentioned on the likes of The Spruce, MSN, Yahoo! and other websites, this is a great path option to take. Reach out to us today to learn more about how our service can help you.
Social Media Signals
Social media may not directly influence your website's SEO but it can help build an online presence that adds to your credibility. Shares, likes, retweets, and comments are all recognized by search engines as social media "signals" and can help the organic search ranking of a business.
While posting on your social media accounts is a great way to interact with your followers, you shouldn't feel the need to create accounts on every platform just for SEO.
Instead, I recommend focusing your efforts on using social media to attract people away to your website. This way, any SEO benefit is a bonus.
Local SEO and Citations
Citations are an online mention of your business and are used by search engines to verify if your business is legitimate or not. They include the name, address, and phone number of your business, also known as NAP.
In a nutshell, online citations consist of:
Name of your business
Address
Phone number
Website URL
Images
Customer reviews
To ensure that your services turn up on local searches, you'll need to maintain a thorough consistency with all your citations as well as your Google My Business listing.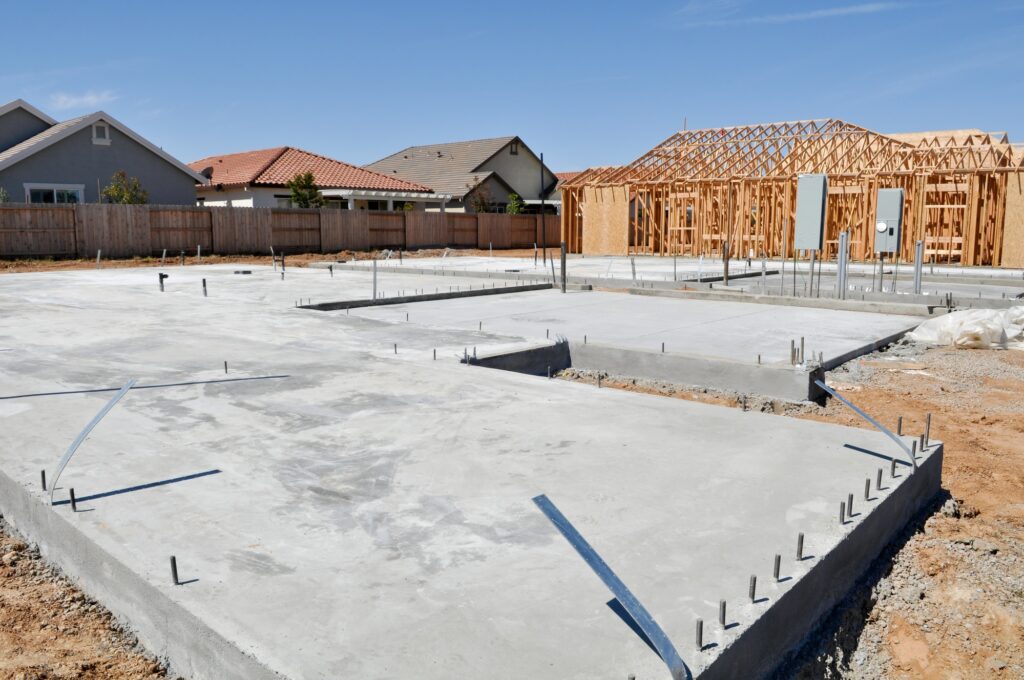 Build a Successful Online Presence With SEO
You wouldn't dream of starting a new build without a solid foundation in place, so your business's online presence shouldn't be any different.
SEO single-handedly lays the groundwork that sets you up for success in the digital world.
The best time to put these practices into place, or to reach out to a company who understands the needs of contractors, is today.
Dialed Labs takes the hassle out of running your SEO campaign. Let our experienced team handle your marketing and promoting your business, so you can focus on ensuring your team are organized and providing a great quality service.