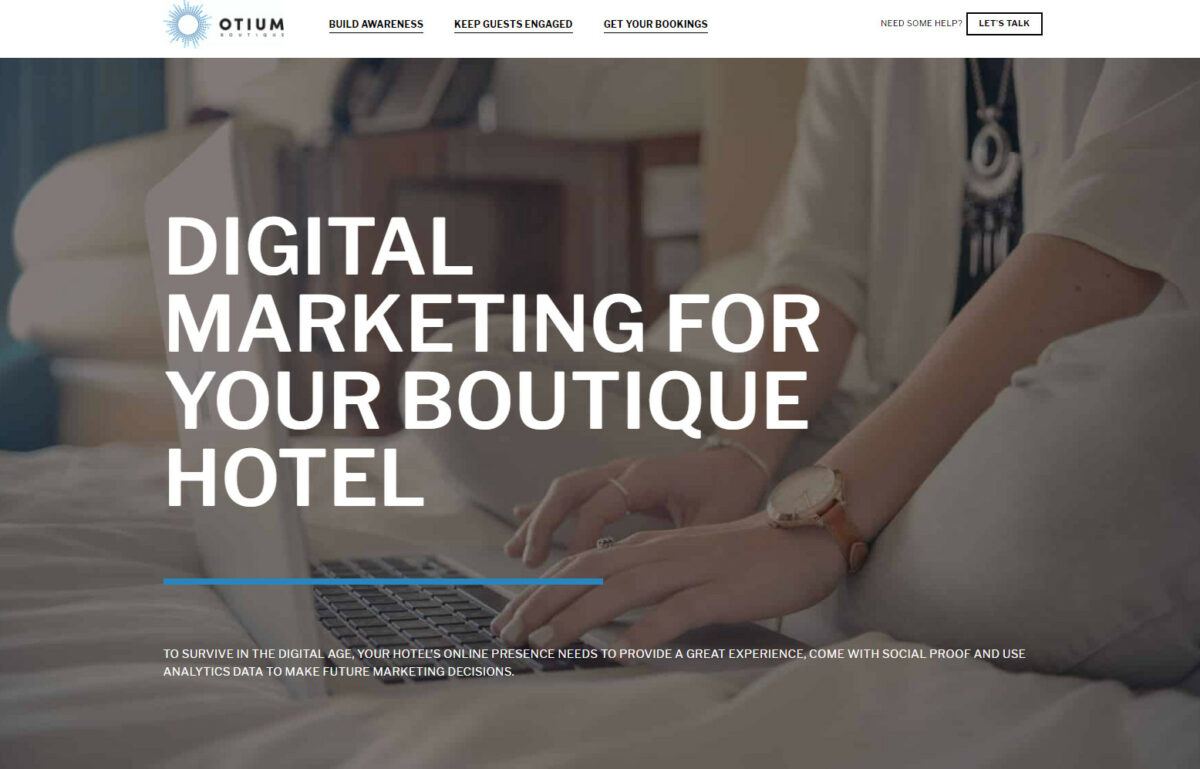 Otium Boutique
Otium Boutique was founded back in 2017. Prior to this, I'd been running a 'full service marketing agency' with my now Operations Director, which basically meant we'd do anything you wanted in exchange for money. No, we weren't very good as a result. 😂
Otium Boutique was an attempt at niching down, specifically to the boutique hotel market. The services remained the same, just the audience we were wanting to cater to.
We had a good deal of experience with tourism businesses and outdoor sporting companies, but knew nothing of the specific issues that boutique hotels had.
Somehow, I thought this would be easy and we'd end up with a decent business out of it. Of course that didn't pan out.
What did pan out, was a very healthy content marketing campaign. We wrote great blog posts about hotel marketing and managed to publish what the SEO community calls 'guest posts' on many industry specific websites. These guest posts included backlinks that helped to increase our domain's link equity, which I later '301 redirected' to the Rank Defender website.
For the most part, we worked way too hard for very little, but we did learn a lot. One clear lesson; sales cycles can be very long. It's difficult for a small startup to work their way into some very entrenched relationships as a result.
Many hotels use proprietary content management systems, meaning it's difficult to process things as easily as you can if you're just working with a single platform. We're WordPress SEO experts today because it's much more consistent. This helps us to be more confident of our strategy, and to continually use our experience to use on new campaigns.
We stepped up, attended conferences, and did help a few clients to get very real results. When this happened, the recurring theme was clear, results were coming via what we now call our 'managed SEO service', not social media or other marketing methods.
The process was more or less the same as what later become our de-facto standard SEO process, where we'd:
perform keyword research, which set the strategy for their SEO campaign,
optimize their existing content for those keywords, to ensure every page and blog post was working hard,
improve their internal linking,
gave their site more authority through our HARO link building service,
perform SEO maintenance, where we performed regular technical audits of their site, and fixed any issues, and
publish new blog content, albeit sparingly.
In fact, we ranked an article for hotel seo for around 5 years, even after moving it to the different domain.

Of course this isn't to say that a wider range of marketing doesn't work for hotels, that's not true. It's just that this is my wheelhouse. For this reason, I focused on SEO after calling it a day with Otium Boutique.
Like most of my businesses, I probably spent more time on branding than I should have, but the experience earned through that process all contributes to any further brands I launch.
As it turns out, Otium Boutique taught me a lot about B2B lead generation, which I use both for Dialed Labs, my own lead generating websites, and many of our clients today.
So there you have it, that's how our brand promotion agency, now called Dialed Labs came to be!